NMCSU Spring Social and Journal Launch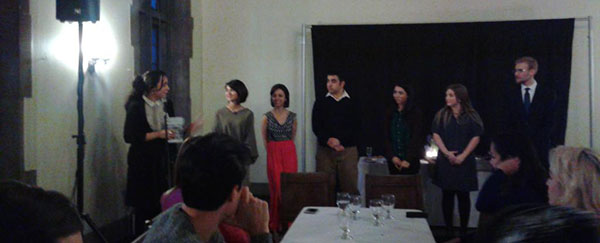 On March 18th, the NMC Undergraduate Students' Union held its annual Spring Social in Hart House's East Common Room. Guests celebrated the Iranian New Year and launched the 8th volume of the Undergraduate Journal of Middle East Studies. Under the leadership of Editor-in-Chief Shirin Shahidi and a team of dedicated students, the journal now boasts an international advisory board and contributors from all across the globe. Topics examined in this year's issue include the impact of Al Jazeera on the 2011 Egyptian uprisings, the relationship between German and Late Ottoman intellectual movements, and the roots of political militarism in Algeria and Palestine. 
NMC at the March Break Open House
Our department was well represented at this year's March Break Open House for prospective students. Staffed by NMC Research Associate and CRANE Project Manager Dr. Steve Batiuk, NMCGSA Symposium Coordinator and PhD Candidate Robert Martin, as well as the NMCSU's outgoing and incoming Presidents Sharon Mizbani and Moska Rokay, our table attracted many curious high school students and parents. Special thanks to Archaeology Lab Technician and Collections Manager Stan Klassen for his organizational and logistical assistance.
2015 CRANE Symposium on Archaeological Data Analysis

On March 27th - 28th, researchers from around the world gathered at this year's very successful CRANE Symposium to explore new findings from sites all across the Near East. Topics included wind modeling in archaeology (Dominique Langis-Barsetti), virtual reconstruction and architectural conservation at Tell Tayinat (Dr. Stephen Batiuk), archaeological data warehouses as analytic environments (Darren Joblonkay), network approaches to Early Bronze Age toponyms (Steven Edwards), and the CRANE Regional Database Project (Dominique Langis-Barsetti and Rasha Elendari). More on the CRANE Project >>
Gideon Levy Visits Toronto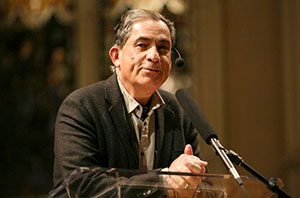 On March 24th, Haaretz journalist Gideon Levy spoke to a large audience at the Cathedral Church of St. James. The event had been moved off campus due to the CUPE strike. Following an introduction by Professor James Reilly, Levy discussed the recent Israeli elections and prospects for resolving the Israel-Palestinian conflict by offering equal rights to all peoples living in the de facto single state that now exists. NMC co-sponsored this event with Canadians for Justice and Peace in the Middle East.
Professor Reilly continues to be active in public outreach on and off campus. On March 31st, he led a discussion on the Syrian civil war following a film screening at the Canadian Centre for the Responsibility to Protect. Earlier in the month, he delivered lectures on "Dueling Visions of Ottoman Beirut" to the History Students' Association (March 3) and at a conference on "Urban Fragmentation(s): Borders and Identity III" (March 16-19, Humboldt University, Berlin).
New Graduate
Congratulations to John Screnock, who defended his dissertation, Translators as Scribes—A Comparison of Scribal Practice and Translation Practice: Exodus 1-14 in the Hebrew Manuscript Tradition and the Old Greek, on March 6th. John was supervised by Professor Sarianna Metso.
Other Recent Events
This semester continues to be a busy one, full of seminars, lectures, and colloquia on many different topics. Among many others:
Upcoming Events
Open until May 1st (Thomas Fisher Rare Book Library, 120 St. George Street)
"As It Is Written": Judaic Treasures from the Thomas Fisher Rare Book Library. The Thomas Fisher Library's Judaica holdings span over 1,000 years. Curated by Barry Walfish, this exhibition features biblical manuscripts, works of Jewish law and liturgy, incunabula, rare Constantinople imprints, and many other unique items. 
April 2nd, 4 PM (Bancroft Building 200B)
How the Priestly Sabbaths Work by Professor Jeffrey Stackert (University of Chicago Divinity School). Presented by NMC and the Centre for Jewish Studies. 
April 16th, 3-6 PM (Jackman Humanities Building 318)
Scrollery Colloquium. The Scrollery Colloquium was founded in 2010 as a collaborative forum between McMaster University and the University of Toronto for faculty and graduate students researching the Dead Sea Scrolls. Supported by the Centre for Jewish Studies, this year's event will feature a keynote by Professor Eibert Tigchelaar (KU Leuven). To reserve a seat, please notify Professor Sarianna Metso by April 14th. 
April 18th, 9 AM - 5 PM (Earth Sciences Centre B142)
8th Annual Coptic Studies Symposium: Interchanges Between the Coptic and Ethiopian Churches: Literature, Monasticism, and Culture. Sponsored by NMC, the Canadian Society for Coptic Studies, and UTSC Historical and Cultural Studies. 
April 26th, 2 PM (Konzelmann Estate Winery, Niagara-on-the-Lake)
A Taste of Ancient Egypt at Konzelmann Estate Winery. Presented by Ancient Egypt Alive! 
May 5th, 7:30 PM (Alliance Française, 24 Spadina Road, Toronto)
Discovering Hatshepsut: A Special History and Travel Evening Celebrating One of Egypt's Greatest Queens featuring Professor Mary-Ann Pouls Wegner and the ROM's Gayle Gibson. Presented by Ancient Egypt Alive! 
View our complete events calendar>>
Upcoming Opportunities
The 3rd Annual Islamic Digital Humanities Conference: Distant Reading and the Islamic Archive (Brown University, October 16th-17th 2015). Proposals on digital corpora and computational approaches to pre-modern and early modern Islamic Studies are invited by April 30th 2015.
Bright Lights, Big City: The Development and Influence of the Metropolis (Bryn Mawr College, November 13th-14th 2015). The organizers of Bryn Mawr College's Tenth Biennial Graduate Group Symposium welcome abstracts on any aspect of urban life, ancient or modern, from students in classics, archaeology, art history, and related fields. Deadline: May 8th 2015. 
Middle East Studies Association (MESA) Graduate Student Paper Prize 2015.
MESA invites faculty to nominate graduate student research papers on any aspect of the post-600 CE Middle East for this year's Graduate Student Paper Prize. Submission deadline: July 1st 2015.