NMC Faculty Retirement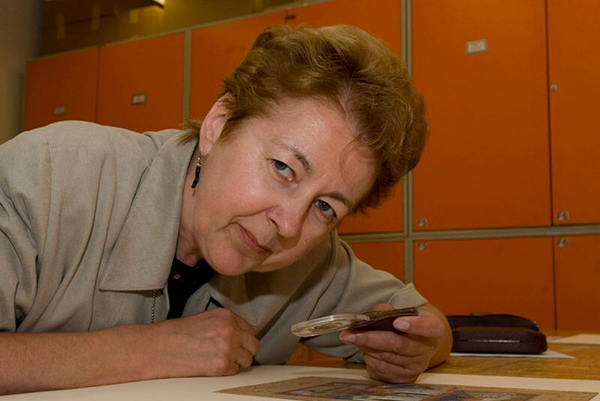 On November 30th, Dr. Karin Rührdanz will retire from her position as Curator of Islamic Decorative Art at the Royal Ontario Museum. A native of Greifswald (Germany) she received her doctorate at the Martin Luther University at Halle-Wittenberg in 1974 with dissertation on Humanism and tradition in modern Arab painting, followed by her Dr. sc. phil (habilitation) in 1985 entitled The development of Persian manuscript illustration, 14th - 16th century, with special regard to collections in the GDR. After her appointment as Assistant and then Associate Professor of Islamic Art at the Wittenberg University between 1974 and 1994, she held positions at Bamberg University (1991-92), the Institute of Advanced Studies in Princeton (1993-1994), the Metropolitan Museum (1994-95), and the Institute of Iranian Studies of the Austrian Academy of Sciences (2005-06), before she joined Royal Ontario Museum in 2007, where she was promoted the Senior Curator in 2012.
Karin's productiveness as a scholar is reflected in six books, three co-authored volumes, and almost 100 articles, book chapters and book reviews. Over the years she contributed to numerous museum exhibits, most recently as curator of "Shahnama—the Persian 'Book of Kings'" (2012) and co-curator of "Cairo under wraps (2014)" at the Royal Ontario Museum. Her time as a ROM curator also saw a growth of the Islamic collection due to purchases and donations. As a cross-appointee to NMC, Karin taught numerous undergraduate and graduate courses including: Persianate Art and Architecture, Painting in Late Medieval and Early Modern Iran and Beyond, Early Islamic Art and Architecture, Text and Image: The Formation of Arabic and Persian Manuscript Illustration, and Later Islamic Art and Architecture. A much-liked colleague at both the ROM and NMC, known as much for her uncompromising commitment to academic rigor as for her bone-dry sense of humor, Karin's departure from Toronto will leave a deep void. We will miss her and wish her all the best for the next steps of her life back in Germany. (Photo © ROM)
NMC at the Fall Campus Day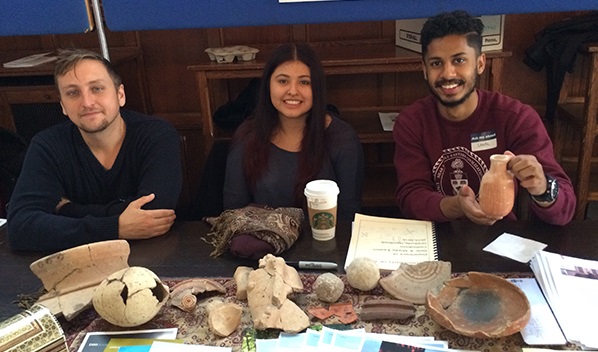 On October 17, Hart House hosted the St. George Fall Campus Day that provides prospective students with the opportunity to meet representatives from various departments of the university and inquire about their study programs and research facilities. NMC was represented by (top left to right) Rob Martin (NMCGSA President), Michelle Diego Sanchez (NMCSU First Year Representative), Sahal Malek (NMCSU Vice President), (bottom left to right) Jayne Kitchen (NMCSU Events Coordinator), Moska Rokay (NMCSU President), and Stanley Klassen (Archaeology Lab Manager). Our stall was well visited by high school students interested in pursuing studies in our department. (Photos © Stanley Klassen and Rob Martin)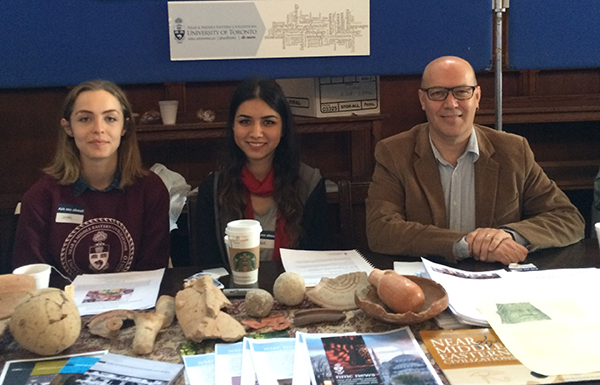 Archaeology Day at the ROM
On October 17-18, the Royal Ontario Museum held National Archaeology Day, sponsored by the Archaeological Institute of America. NMC was represented by tables from the CRANE Project with Dr. Stephen Batiuk, and the Tell Hamoukar Expedition, represented by Prof. Clemens Reichel, and graduate students Khalid Jayyab, Rasha Elendari, and Tracy Spurrier.
Publications and Research
NMC's graduate alumni Dr. Amar S. Baadj has recently published his monograph entitled Saladin, the Almohads and Banū Ghāniya: The Contest for North Africa (12th and 13th Centuries), Leiden: Brill.
The featured monograph is based on Amar's doctoral dissertation completed in NMC under supervision of Dr. Linda Northrup. Dr. Baadj is currently a post-doctoral research fellow at the Annemarie Schimmel Kolleg in the University of Bonn, Germany.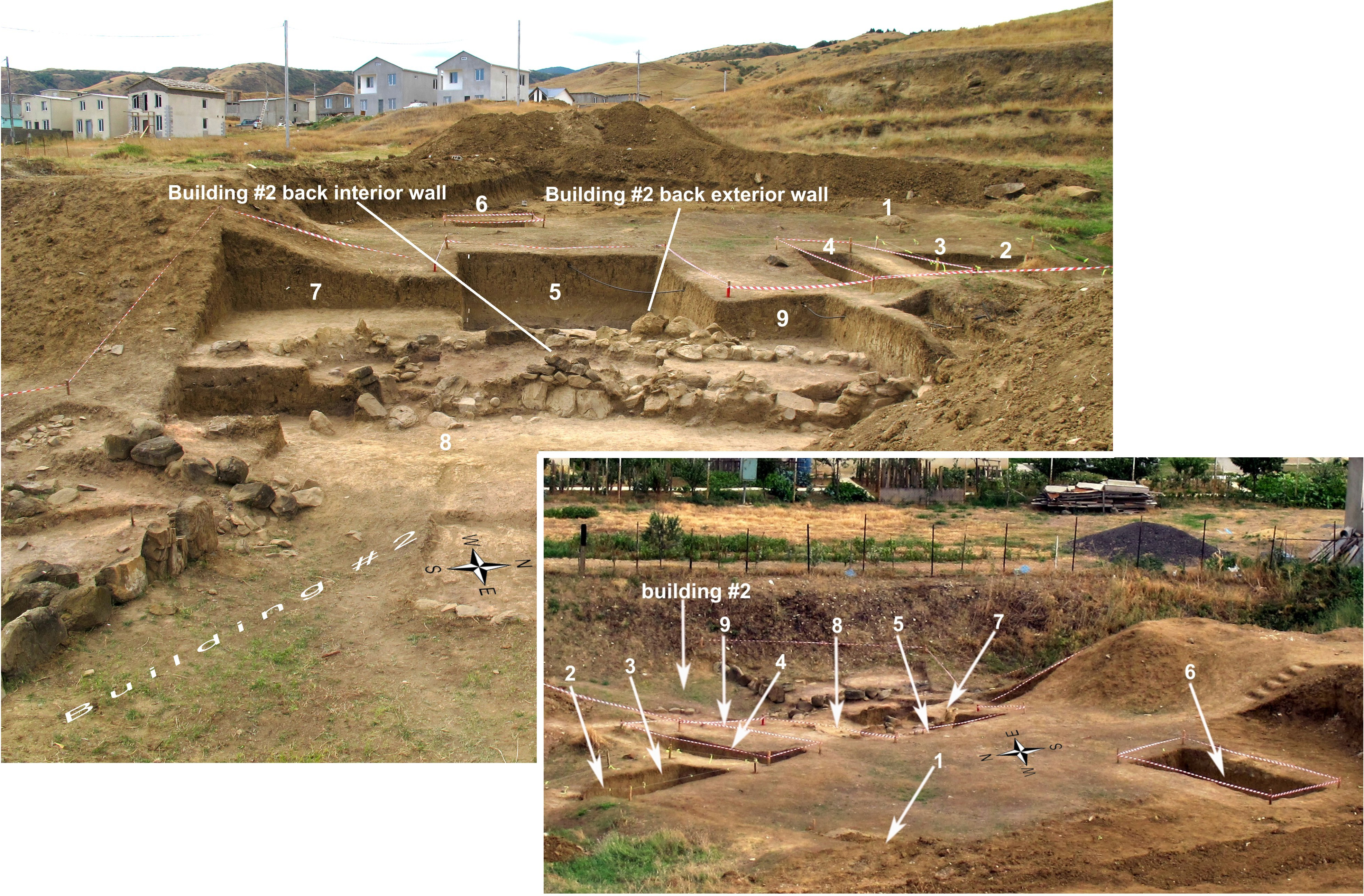 During the summer field season, Dr. Stephen Batiuk conducted salvage excavations at the Middle and Late Bronze Age site of Sajoge within the city of Tbilisi, Georgia. These excavations, conducted in conjunction with the Georgian National Museum, and funded by a grant from the Brennan Foundation and the University of Toronto Archaeology Centre, represents one of the few Middle Bronze Age settlements in the region, and was being heavily encroached and damaged by modern development. The project helped highlight the importance of the site to the municipality of Tbilisi, and a preservation program has been devised to help safeguard this important archaeological site (Photo © Stephen Batiuk).
On October 3rd, The Canadian Society for Mesopotamian Studies (CIMS) held the Annual Symposium entitled The Function of the Palace in Ancient Near Eastern State Societies. Professor Paul-Alain Beaulieu gave a talk on "Palaces of Babylon and Palaces of Babylonian Kings", and Professor Clemens Reichel presented "Beyond the 'Big Man's house' - the development and function of palaces in early Mesopotamian state societies", and also "Centre and Periphery - the role of the 'Palace of the Rulers' at Tell Asmar in the history of Eshnunna (2,100 - 1,750 BC)". PhD Candidate Odette Boivin presented her research on "The Palace as Economic Unit in the Sealand I Kingdom".

In September, Dr. Stephen Batiuk(NMC Senior Research Associate) presented his research on "Kura-Araxes and Wine Production: Evidence for Early Bronze Age Qvevri" at the 2nd International Qvevri Conference, held in the Alaverdi Monastery in Khakheti, Georgia. (Photo © Stephen Batiuk).
New Course - 1001 Nights Around the World
The course surveys the history of the 1001 Nights and its stories, from early manuscripts to modern adaptations, including film, theatre, novels, and short stories produced around the world. The students will read English translation of a medieval Arabic version of the Nights, and then consider the political and cultural contexts of modern creative reactions in Europe and around the world. 1001 Nights Around the World (NMC 256H1S) will be offered for the first time in Winter 2016, and will be taught by Dr. Jeannie Miller, Assistant Professor of Classical Arabic Literature.
Upcoming Events
November 3rd (Koffler House Auditorium 108, 569 Spadina Avenue, 8 pm). The Canadian Society for Mesopotamian Studies (CSMS) November Lecture "Writing Histories of Destruction: Iconoclasm vs Antiquarianism at Persepolis" by Dr. Lindsey Allen (Lecturer in Greek and Near Eastern History, King's College, London, UK).
November 6th-8th (Earth Sciences Building, 5 Bancroft Avenue). The Society for the Study of Egyptian Antiquities (SSEA) 41st Annual Scholars' Colloquium and Symposium - EGYPT'S THREATENED TREASURES: Plunder and Restoration, Past & Present.
November 10th (Bancroft Hall, Room 200B, 4 Bancroft Avenue, 8:30 am). The Jewish Law Association Conference - The Jewish Family.
November 13th (Earth Sciences Centre, Room ES 1050, 5 Bancroft Avenue, 4 pm) SYRIA: A Critical Discussion of Crisis and Destruction. Series of three lectures by Dr. Şenay Özden (Hamisch Syrian Cultural House in Istanbul), Dr. Clemens Reichel and Dr. Jens Hanssen (both NMC, University of Toronto).
November 14th (Wycliffe College, University of Toronto, 5 Hoskin Avenue, 9 am). The Canadian Society for Syriac Studies (CSSS) XV Symposium - Oriental Christianity under Arab Rule. The Arabic Heritage of the Syriac Churches.