NMC-CESI: Workshop Trip for School Supplies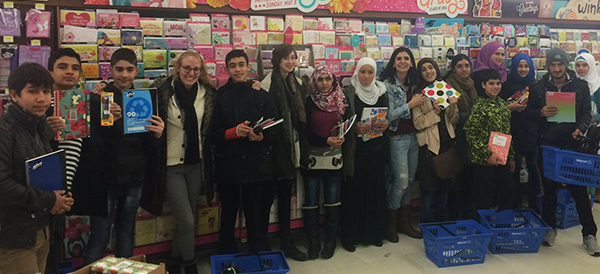 The NMC-CESI concluded its 5th workshop with Syrian-newcomers this past week, taking a group of approximately 25 youth shopping for school supplies. The NMC-CESI would like to thank Nicole Pereira and the University of Toronto Syria Initiative Education Committee for a large donation (over $1,000) in gift cards.
NMC-CESI has been in collaboration with the Educational Committee and the Office of the Dean at the Faculty of Arts & Science in anticipation of additional workshops that will take place on campus this summer all to help Syrian-Canadian newcomers and youth groups. Dean David Cameron has graciously contributed $8500.00 from the Faculty of Arts & Science Annual Fund to support future activities of the "Peer-to-Peer" program including scholarly and public lectures and events, as well as educational and cultural exchange opportunities between U of T students and the recently arrived Syrian refugee community.
---
Society of Friends of Ethiopian Studies
Society of Friends of Ethiopian Studies is gaining momentum to launch a new course in the Ge'ez language at UofT. The long-term goal of this fundraising effort is to develop a range of courses in Ethiopian Studies. NMC is working with the Centre for Medieval Studies and the Faculty of Arts & Science on this initiative.
---
Seminar by Yigal S. Nizri
On April 26th, Yigal S. Nizri (Department for the Study of Religion & Centre for Jewish Studies) facilitated an informative seminar at Columbia University on his paper, "Appropriate to Sacrifice It on the Altar of Print": The Evolution of a Printed Canon in the Jewish Moroccan Diaspora, 1860-1918. Prof. Nizri was also recently awarded a grant to develop a new course entitled, "The Arab – Jew: A History of Concept," which he will be offering in 2016 – 2017.
---
Amar S. Baadj Awarded a Four-Year Postdoctoral Research Fellowship
Amar S. Baadj (PhD 2012, Supervisor: Linda Northrup) has been awarded a four-year post-doctoral research fellowship as a member of the DFG Leibniz Research Group, "The Contemporary History of Historiography," under the direction of Prof. Lutz Raphael, Department of History, at Trier University, Germany.
Amar's project is entitled, "A History of Modern Academic Historical Study in the Arab World from the Interwar period to the Present." As a member of the research group, he will carry out his own research, leading to a book publication, while also and participating in the group`s joint research, and (co-)editing publications of ongoing work results.
Dr. Baadj has also recently published a revised version of his dissertation entitled, Saladin, the Almohads and the Banu Ghaziya: the Contest for North Africa (12th and 13th Centuries) Leiden: FJ Brill 2015.
Congratulations Dr. Baadj on all your success!
---
Ninth Annual Coptic Studies SymposiumNinth Annual Coptic Studies Symposium
Sponsored by the Canadian Society for Coptic Studies and The University of Toronto Department of Near and Middle Eastern Civilization
Over forty-five people were in attendance at the annual Coptic Studies Symposium, which focused on the areas of confluence and divergence between the fields of Coptic Studies and Egyptology.
The Symposium brought together four renowned international scholars in linguistics who discussed the challenges of developing a Coptic lexicon that will identify the Egyptian roots of Coptic, conjugation patterns in literary domains other than Sahidic, the variations of Coptic dialects up to the 5th century, and grammatical variations between Coptic dialects from the beginning of pharaonic history through the medieval era. The papers will be published in the Journal of the Canadian Society for Coptic Studies in 2017.
---
Promotion to Full Professorship
Congratulations to Professors Harry Fox and Rob Holmstedt for their promotion to Full Professorship. Please be sure to take time and congratulate Professor Fox and Professor Holmstedt.
---
Job Search for CLTA Positions
NMC is currently seeking to fill teaching stream CLTA lectureships in the following areas: Near Eastern Archaeology, Arabic Language, and Avestan & Pahlavi Languages. Details of the new positions will be posted shortly.
---
Amir Harrak Appointed UNESCO Chair at Kufa University, Iraq
Amir Harrak will be traveling from April 23rd – May 12th to present six insightful lectures involving stories of the Koran, early Syrian literature, Aramaisms in the Koran as well as Arabic-Aramic relations.
More information>>
---
"Dancing Ostriches" and "Horns of Light" Semiotic Musings on (some) Egyptian Composite Crow
Prof. Goebs presented an informative paper, "Dancing Ostriches" and "Horns of Light" in exploration of Semiotic Musings and Egyptian Composites," at Yale on April 21st, 2016.