News from the Canadian Centre for Epigraphic Documents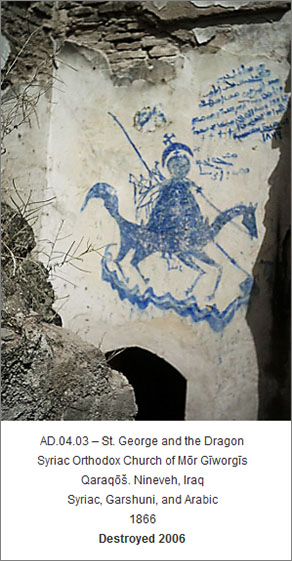 As ISIS militants continue to wreak havoc throughout the Levant, our research community continues to work toward safeguarding the region's cultural heritage for future generations. With the largest collection of Iraqi Syriac and Garshuni inscriptions in the world, courtesy of Professor Amir Harrak's efforts to catalogue threatened epigraphs, the Canadian Centre for Epigraphic Documents (CCED) exemplifies the contribution that digital humanists can make to current interventions in the Middle East. Hosted right here at NMC, the CCED's holdings include the only extant copies of inscriptions now destroyed by the Islamic State.
As noted by recent coverage in LiveScience, CBS, the CBC, Fox News, and Current World Archaeology, the CCED's work transcends borders and bridges disciplines. During his recent panel on cultural genocide at the ROM, Professor Clemens Reichel lauded the CCED's Syriac Inscription Project as the most significant of its type anywhere in the world. Indeed, as the CCED's collection is more extensive than even that of the National Museum in Baghdad, a professor from the University of Kufa has pledged to use the CCED's online materials to enrich his students' understanding of their history and heritage. And by partnering with researchers at the British Library and Mount Holyoke College, CCED Director Colin Clarke hopes to recover works of unknown Syriac poets and to restore ancient compositions for future audiences before they are lost forever, whether by destruction or by neglect.
The CCED works on a budget of zero dollars. To date, its work has relied on the indispensable efforts of volunteers from the information profession. To achieve its mission of safeguarding irreplaceable chapters of world history for our children and grandchildren—and to fund the production of a new solar-powered dehumidification prototype that will revolutionize archival methods in developing nations—the CCED needs your help. Please consider donating through PayPal, contributing to the CCED's peer reviewed journal, or reaching out to Mr. Clarke to offer your time or technical expertise.
Alumni and Community News

We warmly congratulate Dr. Christina Geisen on her new position as a Postdoctoral Associate in the Department of Near Eastern Languages and Civilizations (NELC) at Yale University. Dr. Geisen has been an indispensable member of the NMC community over many years, not least due to her tireless leadership in and beyond the Society for the Study of Egyptian Antiquities (SSEA-Toronto), and we look forward to watching her excel in her new role.
Congratulations are also due to Dr. Andrew Jones, who defended his dissertation, Word Order and Information Structure in Finite Verb Clauses in Hellenistic Period Hebrew on June 3rd (under the supervision of Professor Robert Holmstedt) as well as Dr. Emmanuel Joseph Mar-Emmanuel, who defended his dissertation, The Book of Resh Melle by Yohannan Bar Penkaye: An Introduction to the Text and Study of its Literary Genres on May 28th (under the supervision of Professor Amir Harrak). Please join us in wishing Dr. Jones, Dr. Mar-Emmanuel, and all of our graduates the very best in their future endeavours.
Finally, we wish Dr. Yosefa Raz all the best as she moves on from her position in NMC as Anne Tanenbaum Postdoctoral Fellow in Jewish Studies. Dr. Raz will be taking up a new position in Israel this September, and will be missed by all.
Inanna Desk Copies Available

Dr. Kim Echlin, a member of the Canadian Society for Mesopotamian Studies (CSMS) and 2009 Giller Prize nominee, has just published a translation of Sumerian poetry. Entitled Inanna: A New English Version, this volume features a new introduction and extensive cultural notes produced under the guidance of Professor Douglas Frayne. A limited number of desk copies are available to members of the NMC community. If you would like a complimentary copy, please convey your interest and contact details to Penguin Random House or to Ms. Echlin directly.
New Course — The Mummy: Technology and Transformation

Taught by Professor Mary-Ann Pouls Wegner, this new course (NMC 254 H1F, offered T 3-5 in SS 1069) explores one of the most fascinating creations of ancient Egypt: the mummified human body. The technology of mummification preserved human remains to an astonishing degree, achieving the goal of its practitioners and also giving rise to the occult association of mummies with the 'undead.' Students will trace the development of mummification techniques and the role of the mummy in the transformation of the deceased, as well as examining the uses of mummies in more modern times as important sources of information about the diet, health, and lives of ancient individuals, and as objects appearing in museums, literature, and film. The course encourages discussion of the ethical concerns that these uses raise, including the treatment of mummies by ancient tomb-robbers and later collectors, their role in colonialist perspectives on Egypt, their importance for cultural heritage, and their objectification as things to be displayed to the public.
Enrolment in NMC 254 H1F is still open—but remaining spots are limited. As this course has no prerequisites aside from recommended background preparation in NMC 101 H1, all interested students are welcome and encouraged to register.
News in Assyriology
The International Association for Assyriology (IAA) has revamped its website with a view to promoting the role and relevance of Assyriology to a broader public. With three new directories on its homepage, the new website features a wide array of resources for visitors seeking news, articles, press releases, and other content on the cultural heritage of Syria and Iraq as well as the looting and destruction that is ongoing in the region.
Opportunities
U of T Job Opening: Assistant Professor of Islam and Modernity, Department for the Study of Religion (60%) and Department of Near and Middle Eastern Civilizations (40%), University of Toronto - St. George Campus. Closing date: November 1st, 2015. 
U of T Postdoctoral Fellowship Opportunities: 2016-2018 Andrew W. Mellon Fellowships in the Humanities, Jackman Humanities Institute. Applications accepted starting September 14th. Deadline for applications: November 16th, 2015 at 11:59 PM. The theme for 2016-2017 is Time, Rhythm, and Pace. Four Fellows in the Humanities—including political theory, music, interpretive social science, and the arts—will be selected for a two-year fellowship on the basis of accomplishment appropriate to their stage in the career, the promise of excellence, and the relevance of their research to the annual theme.
Job Opening: Assistant Professor of Islamic Law and Society, Department of Middle Eastern and Islamic Studies, New York University. Closing date: October 1st, 2015. 
Middle East Studies Association (MESA) Undergraduate Education Award 2015. This award recognizes outstanding scholarship on teaching or other material contributions to undergraduate education in Middle East Studies. Deadline: August 30th, 2015.