Adventures in Newsmaking
Welcome to the inaugural edition of NMC eNews, a monthly compilation of events and achievements for and by NMC faculty, students, and staff. We hope these digital dispatches will make it easier for all of us to stay abreast of each other's activities, advertise upcoming opportunities, and highlight new research and community outreach initiatives. Also, starting this month, our printed alumni newsletter will be operating on a biannual publication schedule (autumn and spring)—please enjoy our latest issue here. And don't be shy about sharing your news with us. We want to hear what you've been up to!
Professor Timothy P. Harrison Receives ASOR's Richard J. Scheuer Medal
We are thrilled to announce that Professor Tim Harrison has been honoured with the Richard J. Scheuer Medal at this year's American Schools of Oriental Research meeting for his lifetime of service to the global research community. Established in 1989, this award is presented to individuals who have offered "truly outstanding, long-term support and service contributions to ASOR," and is conferred only when suitable recipients are identified. Photo © Inda Omerefendic and courtesy of Kaitlynn Anderson.
Professor Amir Harrak and the Journal of the Canadian Society for Syriac Studies Win SSHRC
The Social Sciences and Humanities Research Council has finished adjudicating its 2014 Aid to Scholarly Journals competition, and we are delighted to report that the Journal of the Canadian Society for Syriac Studies, edited by Professor Amir Harrak, was placed among the 135 highest-ranked journals. This grant, which covers three years of funding, was awarded to JCSSS due to its elegant production, its long history of scholarly rigour and innovation, and its distinguished Editorial Board's multidisciplinary contributions. Congratulations to Professor Harrak on his outstanding editorial leadership!
New Graduates
Congratulations to Arshavez Mozafari and Hamid Rezaei Yazdi on successfully defending their dissertations! Arshavez's dissertation was entitled An Intellectual History of Early Pahlavî Demonology, 1921-41/1299-1320 sh and Hamid's dissertation was entitled Debating Iranians: The Discursive Practice of Munāzirah and the Making of Modern Iran. Both of these projects were completed under the supervision of Professor Mohamad Tavakoli-Targhi.
Conference Reviews
The NMC community has been very busy this fall. On November 7th-8th, NMC presented an international conference on "The History and Impact of German Archaeology in the Near and Middle East" in partnership with the Archaeology Centre, the Centre for European, Russian, and Eurasian Studies, and the Department of Germanic Languages and Literatures. Some participants are pictured at right (© Professor Peter der Manuelian of Harvard University). In addition, on November 15th, the Canadian Society for Syriac Studies held its 14th annual symposium (CSSS XIV), "Hidden Treasures of the Eastern Church: Syriac Perspectives of Late Antiquity and Early Islam." View photos and read conference reports by Professor Katja Goebs and Professor Amir Harrak.
Celebrating Student Achievement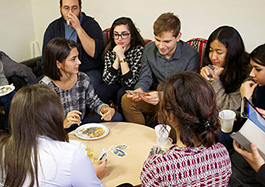 This year's winner of the R.F.G. Sweet Award is NMCSU President Sharon (Shervin) Mizbani, whose contributions to the NMC community have been exemplary. Under Sharon's leadership, the NMCSU has organized an array of events for students, including a Tea House and Bazaar (pictured at right) and a roundtable discussion on women and revolution in the Middle East (pictured below). Photos © Sharon Mizbani. Congratulations, Sharon!
The Faculty of Arts and Science has recently honoured several NMC students with awards as well. PhD student Laura Hare received the T.J. Meek Prize in Hebrew Syntax for her paper Muraba'ât Papyrus 17. Laura's research interests include Hebrew linguistics and the issue of violence against women in the biblical text. Daniel Shin received the E.G. Clarke Scholarship for his performance in Introductory Biblical Hebrew. Daniel is double-majoring in Classics and NMC, with a structured focus on Ancient Greek, Latin, Akkadian, and Biblical and Modern Hebrew. He hopes to use these languages to gain a richer understanding of the Bible, with an eye to becoming a pastor one day. Erik Blackthorne-O'Barr received the Oktay and Virginia Aksan Scholarship for excellence in Turkish and Islamic Studies. Emily Hotton received the Kathleen Beatty Adamson Scholarship for her outstanding performance in our Egyptology courses. Emily's research interests include women in religious and political roles in the Second Intermediate Period and New Kingdom Egypt. She aims to enroll in a Master's program here at NMC, with a collaboration in Women and Gender Studies.
Student Activities and Initiatives
Ancient Egypt Alive—an initiative of NMC graduate students Laura Ranieri and Th¬omas H. Greiner—has had a very exciting semester. In addition to hosting a successful lecture with Dr. Andrew Bednarski and producing a new video series, "Conversations with Egyptologists," AEA launched a new website and organized an excursion to the Kitchener Museum. AEA concluded the semester with a sumptuous Pharaoh's Feast on December 10th, which featured ROM Egyptologist Gayle Gibson in conversation with Maha Barsoom, chef and proprietor of Maha's Fine Egyptian Cuisine.
NMC Master's student Sabrina Guerrieri has published an essay in Reorient magazine on the postmodernism of Pier Paolo Pasolini's classic 1974 film, The Flower of the Thousand and One Nights, and questions of originality in art. Sabrina's M.A. research focuses on the role of Pahlavi Iran in the international development of human rights.
On November 25th, the NMCSU co-sponsored a panel discussion, "Women and Revolution in the Middle East," in collaboration with students and reseachers at the Women and Gender Studies Institute. Check out fourth-year student Frances Maranger's report on this lively event.
Attention NMC Faculty
U of T Magazine is looking for new research projects to spotlight in future issues. If you are working on a project that hasn't already been widely reported, takes place outside of Canada, and could have an "addressing global challenges" or "preparing global citizens" angle, please send a short description to Eugenia. She will collect suggestions and forward them to U of T Magazine editor and manager Scott Anderson.
Opportunities
Widely recognized as the most prestigious Persian-language scholarly journal in the social sciences and humanities, Iran Nameh invites submissions of research articles and reviews. Submissions are rigorously peer-reviewed, and accepted articles are professionally copyedited and returned to authors for final approval. Based at the University of Toronto since 2011, Iran Nameh is overseen by a distinguished academic board, has an international reach of over 5,500 readers as well as over 9,500 Facebook followers, and maintains a complete digital archive of past issues.
Attention students! Are you looking for ways to get more involved in the research community? The Canadian Institute in Egypt has a Students' Committee and all kinds of exciting projects on the go. From virtual libraries and webinars to symposia and social media groups, the CIE has something for everyone.
Don't forget that the NMCGSA and NMCSU are currently accepting submissions for the 19th Annual NMCGSA Symposium (abstracts due by January 16th) and the Undergraduate Journal of Middle Eastern Studies (papers due by January 9th). We encourage instructors and TAs to nominate student coursework for publication in the NMCSU's journal.
For more professional development opportunities, be sure to check out our online listings of new job postings, calls for papers, and fellowships! These pages are updated weekly.
Upcoming Events
Professor Heather D. Baker will be delivering this year's A.K. Grayson Lecture on Assyrian History and Culture on January 14th (8:00 PM, Earth Sciences Auditorium B142). Presented by the Canadian Society for Mesopotamian Studies (CSMS), Professor Baker's lecture is entitled Making an Empire: Neo-Assyrian Craftsmen and Other Workers. 
Don't let the winter doldrums get you down! Check out the Society for the Study of Egyptian Antiquities' (SSEA-Toronto's) packed calendar of events for January through May 2015.