Hundreds gather for vigil at University of Toronto in memory of those killed at Quebec City mosque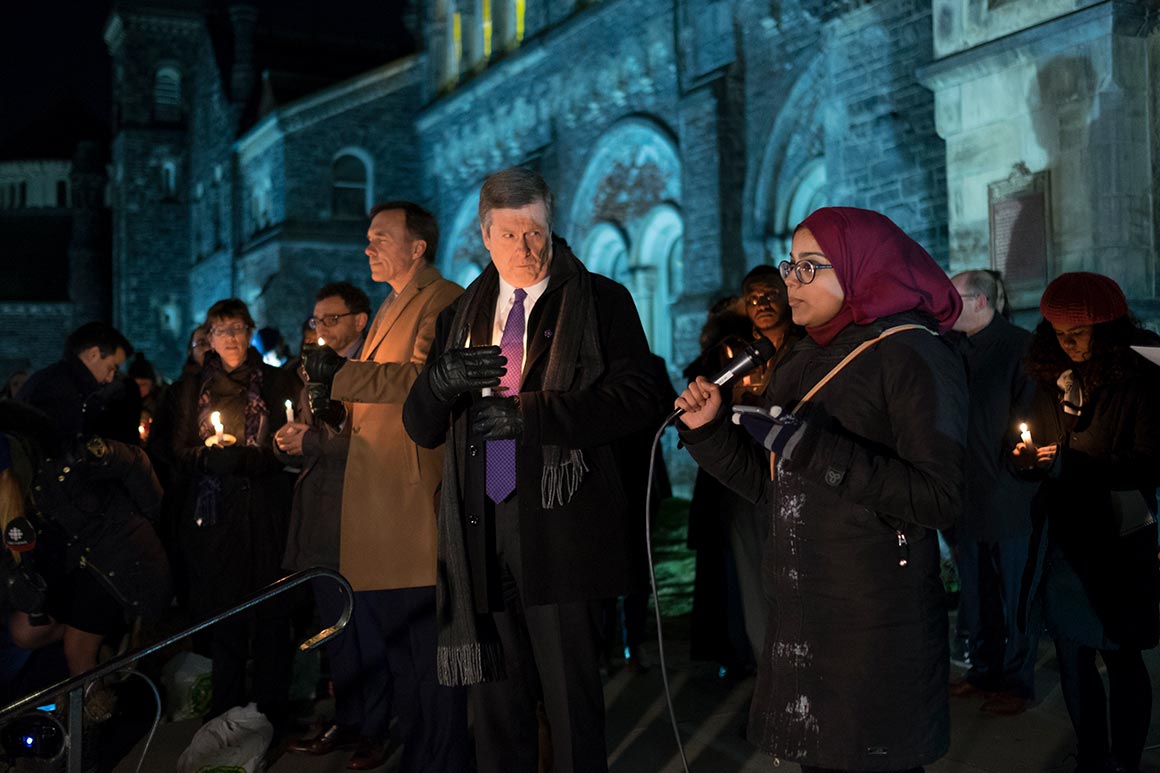 Hundreds gathered at U of T's downtown Toronto campus tonight to remember the six people murdered at a Quebec City mosque on Sunday.
Students, faculty, politicians and leaders of different faiths called for peace and inclusion.
"Without love, without hope, without support, we have nothing but walls," Dalia Hashim, the president of U of T's Muslim Student Association, told the crowd.
"And that's not the future we want for the Canada we live in."
Vigils had been planned at both Ryerson University and U of T but organizers combined their events. Students and faculty from both institutions were joined by Toronto Mayor John Tory, federal Finance Minister Bill Morneau, MPP Dipika Damerla MPP and members of the community.
---
U of T launches class on ancient Ethiopic language with a donation from The Weeknd
Robert Holmstedt is teaching the new course, NML380H1-S Introduction to Ge'ez (Classical Ethiopic), offered at NMC. Since the subject is so rarely taught, Holmstedt had to invent course materials and revise one of the only Ge'ez textbooks in English, the 40-year-old Introduction to Classical Ethiopic: Ge'ez by Thomas O. Lambdin. Ge'ez is a window into an ancient culture and offers insights into other Semitic languages.
---
U of T student reunited with family from Syria thanks to support from Toronto-area Muslims and Jews
January 24, 2017
by Peter Boisseau
Newly reunited with her family after they fled Syria, and grateful for the welcome they've received in the city she considers her new home, Arts & Science student Rasha Elendari is feeling inspired by love even as she tries to dispel hate and fear.
---
New Publication: The Politics of A-Political Linguistics: Linguists and Linguicide
Congratulations to Amir Hassanpour for his recent publication within, "The politics of a-political linguistics: Linguists and linguicide, in Tove Skutnabb-Kangas and Robert Phillipson (eds.), Language Rights, Vol. IV, London: Routledge," 1916, pp. 351-357.
---
Recent Presentations by Katja Goebs
Katja Goebs recently presented multiple lectures including, "Ishtar Astarte Hathor. Myths and functions of Near Eastern Goddesses of Dawn and Dusk, " as well as "Functions and Uses of Myth," and finally a presentation hosted by SSEA Toronto Chapter. "Some performative aspects of Egyptian Myth,"
To learn more about future events, follow NMC's Facebook, or twitter pages, or take a look at our events section on our website