Sonallah Ibrahim Visits Toronto

On February 26th, NMC hosted a lively conversation between renowned Egyptian novelist Sonallah Ibrahim and Professor Robyn Creswell of Yale University, whose English translations of Ibrahim's That Smell and Notes from Prison (2013) have earned widespread critical acclaim. Moderated by Professor Jeannie Miller and followed by a spirited question-and-answer session, this event was co-sponsored by the Institute of Islamic Studies, the Arab Canadian Cultural Group, the Toronto Arabic Studies Colloquium, the Middle Eastern History & Theory Workshop, and the Egyptian Students' Association. Photos © Arab Canadian Cultural Group. View more >>

The 19th Annual NMCGSA Symposium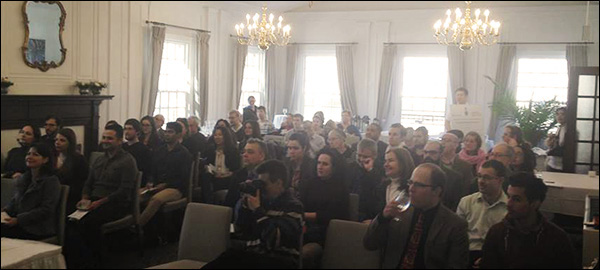 Congratulations to all of our graduate students on last week's outstanding symposium. Hosted at the Faculty Club and titled, "Making and Breaking Boundaries: Political, Cultural, Ethnic, and Religious Networks, and the Ever-Changing 'Borders' of the Near and Middle East," the 19th Annual NMCGSA Symposium featured participants from all around the world who presented on a wide range of topics, including religious exchange in the classical world, identity politics in diasporic communities, Egyptology, Islamic philosophy, Ottoman and Turkish Studies, and the archaeology of Egypt, Anatolia, and the Levant.
Following opening remarks by Professor Timothy Harrison, a dedication honouring the academic legacy of Professor Emeritus J.S. Holladay, Jr., was delivered by Professor Edward Banning, Chair of Anthropology and a former student of Professor Holladay's. Attended by nearly eighty people, the opening dedication was a smash success and set the tone for an impressive slate of talks. We hope to see everyone again at next year's 20th anniversary celebrations!
Photos © Robert J. Martin, Symposium Coordinator and Ph.D. candidate in Near Eastern Archaeology. View more >>
Other Recent Events
We have had a busy season full of seminars, lectures, and colloquia on many different topics. Among many others:
Ulrike Dubiel of the Free University of Berlin delivered two lectures on February 11th: "The Sculpture from Tell Halaf and Its Extraordinary Biography" and "The Sensory Perception of Ancient Egyptian Art in 18th to 20th century Europe" (sponsored by the Society for the Study of Egyptian Antiquities).
Also on February 11th, Professor Piotr Michalowski of the University of Michigan spoke on "Traces of Race: Notions of the Other in Early Mesopotamian Thought" (sponsored by the Canadian Society for Mesopotamian Studies).
The Foundation for Iranian Studies continues to hold its winter seminar series, which examines everything from cross-cultural healthcare delivery to the history of Persian urban art music to Iranian-American identity politics.
Student Achievements
Congratulations to Joud Alkorani on the publication of her first research article, "Solace for the Self and the Other: Prayer in Ibn ʿArabī's Thought," in Journal of the Muḥyiddin Ibn ʿArabī Society, vol. 56: 17-42. Supervised by Professor Mohamad Tavakoli-Targhi, Joud is a second-year M.A. student in Middle Eastern and Islamic Studies who is currently writing her thesis on Islamic satellite television "fatwa" shows and their role in disciplining bodies in an intimate public sphere. She will begin her Ph.D. in September.
Upcoming Opportunities
Call for U of T Magazine Story Ideas. U of T Magazine has launched a new online series called "Back Story" to celebrate notable people and events in the history of the university. As NMC has existed under various designations in the University of Toronto for over 150 years, it seems likely that our department has many interesting stories to tell. If you have any suggestions, please send them to Eugenia. She will collect story ideas and forward them to managing editor Scott Anderson. Read the first installment of Back Story >>
Call for Nominees for the 2015 University of Toronto Excellence Awards (UTEA).
This award is designed to support undergraduate students working on a summer research project under the direction of a faculty member whose primary appointment is in the Faculty of Arts and Science. UTEA awards in the humanities and social sciences are valued at $6,000. Applications should be sent to Amanda Bello by March 12th. 
Upcoming Events
March 4th, 4 PM (BF 200B)
"Do They Not Attack Here with the Same Desire...?" Early Republican Gallipoli as Contested Commemorative Space by Professor Pheroze Unwalla (York University). Presented by the Seminar in Ottoman and Turkish Studies. 
March 5th, 12 PM (Hart House Debates Room)
Radical Thought and Action: A Panel Discussion featuring Professor Mark Kingwell (Philosophy, University of Toronto), Professor Glen Jones (OISE), and Imam Farhan lqbal. Sponsored by Religion in the Public Sphere. Lunch included with registration. 
March 6th, 4 PM (BF 200B)
When White Becomes Brown: Iranian-Americans and the Everyday Politics of Race by Professor Neda Maghbouleh (Sociology, University of Toronto). Presented by the Foundation for Iranian Studies. 
March 11th, 8 PM (ES B142)
Temples, Households, and Collapse in the Heart of Nagar, 2600-2000 BC: Excavations at Tell Brak in Northeastern Syria by Dr. Geoff Emberling (University of Michigan). Presented by the Canadian Society for Mesopotamian Studies. 
March 12th, 12 PM (BF 214)
The Epic of Coptic Linguistics by Professor Ariel Shisha-Halevy (Hebrew University of Jerusalem). Presented by the Canadian Society for Coptic Studies. 
March 16th, 3 PM (JHB 100)
Sassanian Chess: Origins and Development by Professor Antonio Panaino (University of Bologna). Presented by the Jackman Humanities Institute Program for the Arts on Humour, Play and Games. 
March 25th, 4 PM (JHB 100)
Getting it Wrong: Poetry and Narrative in Ninth Century Baghdad by Professor Michael Cooperson (UCLA). Presented by the Jackman Humanities Institute Program for the Arts on Humour, Play, and Games with support from the Centre for Medieval Studies, the Centre for Comparative Literature, the Institute of Islamic Studies, the Middle Eastern History & Theory Workshop, the Toronto Arabic Studies Colloquium, the Department of Near & Middle Eastern Civilizations, and UTM Language Studies. 
March 26th, 1 PM (BF 200B)
Arabic Translation Lunch Seminar with Professor Michael Cooperson. For graduate students, advanced undergraduates, and faculty who engage in translation from Arabic to English, this seminar will offer a practical group approach. Participation is by RSVP. Please register with Professor Jeannie Miller by March 22nd.