"It was the right thing to do, and the need was very great at the time." NMC PhD graduate Robert Martin looks back on the co-foundation of NMC-CESI in 2016.
In response to the Canadian government's decision to increase the settlement of Syrian refugees in Canada, two graduate students from the Department of Near and Middle Eastern Civilizations (NMC) at the University of Toronto recognized an opportunity to provide practical support and connection for newcomers. In 2016, Robert Martin and NMC PhD candidate Rasha Elendari established the Near and Middle Eastern Civilization Cultural Exchange and Support Initiative (NMC-CESI). NMC-CESI is a student-led educational and humanitarian initiative created by students and faculty in the Department of Near & Middle Eastern Civilizations at the University of Toronto. They aimed to assist Syrian refugees settling in Toronto by offering essential services and cultural exchange.
"While volunteering at the Plaza Hotel, where numerous refugees awaited housing placement, I noticed that many Syrian youths are not getting as much attention and support as children and parents. Recognizing the complexity and sensitivity of this age group's needs, I saw an opportunity to facilitate their integration with U of T students. This integration could help them adapt and prepare for their new lives and education in Canada." Rasha shares the moment she played a role in co-founding NMC-CESI.
Having a Syrian background and being enrolled in NMC gave her an excellent opportunity to engage with newcomers and fellow students. Her experience as a teaching assistant for an Arabic course highlighted the importance for students to interact with native Arabic speakers to enhance their language proficiency.
They initiated weekly workshops, which proved highly successful in attracting both Syrian newcomers and student volunteers. These workshops served to raise awareness about ongoing issues in Syria and the Middle East, while also helping refugees adapt to their new lives. The core focus was on aiding young people aged 18 to 25, a crucial age group for refugees striving to integrate into Canadian society and educational institutions.
The initiative was generously funded with a substantial donation from Nick Lo, an alumnus of the University of Toronto, in memory of his late son, Jaydon Lo. Thanks to the support of the Lo family from Hong Kong, they were able to maintain their programming for several years.
The initiative facilitated mutual learning between Syrian refugees and University of Toronto students, fostering a valuable social network. The impact of NMC-CESI extended beyond practical assistance, as volunteers reported that their involvement was among their most meaningful experiences. The program exemplified the potential of student-led initiatives, demonstrating the positive outcomes of cultural exchange and mutual support.
Family Workshop hosted at the Cat's Eye, Victoria College
(Photo Courtesy of NMC-CESI)
It is of profound significance to note that their work-study opportunities originated from the very community of newcomers they assisted, and the programs they offered enabled these newcomers to transition into students at the University of Toronto. Eventually, they took charge of the program themselves.
---
"Dynamic Interaction, Empowerment of Syrian Youth, Reciprocal Benefits, Integration into Research are the distinctive features of NMC-CESI", Rasha states.
---
When NMC-CESI Vice-President & Workshop Coordinator Yusef Al-Molieh arrived in Canada in late 2016, NMC-CESI was the first place where he got to make friends and learn English. Engaging in weekly workshops enabled him to immerse himself within the community, progressively heightening his sense of belonging. He found himself drawn to the subjects discussed in the workshops, which sparked a genuine interest in continuing his involvement with the initiative. As he was applying to universities, he received significant support from the volunteers, a factor that greatly contributed to his acceptance into the University of Toronto. Once he transitioned to being a university student, his enthusiasm to sustain NMC-CESI's commendable efforts surged, leading him to become an active member of the team and undertake the role of workshop coordinator.
Yusef Al-Molieh is entering his second year of his MSc in biochemistry and was recently awarded a graduate scholarship (CGS-M) from CIHR. Additionally, he co-authored a research paper that was published in the Journal of Biological Chemistry and participates in international conferences for cell biology and published abstracts. Alongside coordinating NMC-CESI workshops, he is the Sports Rep at the Biochem Grad Students Union.
"NMC-CESI is a place where volunteer students and refugee youth meet regularly to support each other. Having students from different backgrounds to help newcomers improve their language and apply for universities or jobs is something unique about NMC-CESI. Having been a student myself, I realized how much pressure an undergraduate can go through, but helping other newcomers and seeing them thrive can have a positive effect on both. Also, the friendships and support for the community through NMC-CESI are priceless."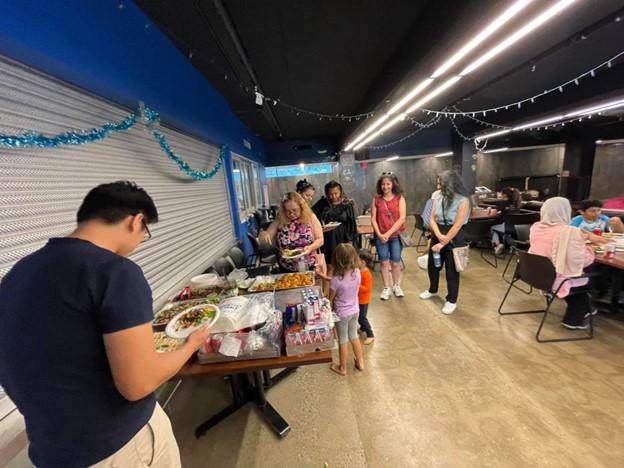 U of T Student Volunteers and community members enjoying Syrian cuisine catered by a newcomer kitchen
at the Cat's Eye in their Cultural Exchange Workshop
(Photo Courtesy of NMC-CESI)
NMC-CESI Treasurer and Workshop Coordinator Islam Lazakani has recently started her university journey and is pursuing a double major in linguistics and sociology alongside coordinating on-campus workshops for the newcomer community who are seeking language exchange opportunities. She facilitates NMC-CESI workshops on campus, creates communications content, and, as the Treasurer, she oversees the initiative's financial administration and fundraising.
For Islam, NMC-CESI played a dual role in her life. It enhanced her English skills alongside her fellow newcomers. It also helped her establish connections within the community and make friends with whom she has maintained contact since her initial meeting in 2016. Islam states, "From being a participant to volunteering and now running and coordinating the program with my colleagues and friends has been a journey of learning, exploring new activities, and meeting wonderful people."
Numerous accomplishments have been achieved at NMC-CESI, notably fostering an environment of inclusiveness, cultivating enduring friendships, and creating a family-like work environment. Islam says, "I was blessed to experience this environment at the U of T that has helped me be exposed to this kind of work ethic as a first job experience. I'm grateful to have met the NMC-CESI community when I was experiencing a cultural shock, and they made me feel right at home."
NMC-CESI supported the newcomer community with Family Workshops
where Arabic speaking families can participate in arts & crafts workshops
with University of Toronto student volunteers looking to improve their Arabic language skills
(Photo Courtesy of NMC-CESI)
Managing Director and Co-founder Robert Martin narrates, "The programming has evolved with the community's needs, first focusing on newcomer youth/students specifically for many years (especially with English /Arabic support) and then in the past few years ultimately entire families as the youth had children of their own or started families, or as their siblings came to the university. During the pandemic, we modified our workshops to be remote and online while necessary. During the Afghan crisis last year, we expanded our programming to include a program specifically for Afghan newcomer youth. We have similarly worked to integrate and better include those with disabilities and special needs when new members joined our community."
They designed tailored programs for Afghan newcomer youth to ensure their smooth integration into the community. Recently, NMC-CESI has been dedicated to promoting inclusivity, particularly for individuals with disabilities, leading to the addition of new team members.
By bringing different communities together to exchange their cultures & experiences, our group endeavors to actively counter Islamophobia, homophobia, and all forms of racism -replacing this negativity with true connection, open exchange, and cultural understanding & belonging.
The emergence of the COVID-19 pandemic posed challenges for various student clubs, including NMC-CESI. One of the recent obstacles that NMC-CESI confronted pertains to financial support for workshops and events. The majority of events organized by NMC-CESI require funding, resulting in occasional difficulties, particularly when financial limitations necessitate event restrictions. The ongoing challenge of securing adequate funding resources and appropriate venues has remained a central focus in sustaining the operational flow of workshops. Rasha says, "For the organizers, devoting significant time and effort to organizing the group and facilitating weekly workshops without financial compensation posed a challenge in balancing our research commitments and other part-time jobs."
Robert states, "For me, the establishment of NMC-CESI helped me focus on helping others and also navigate some of the turbulent times and struggles in my own life during graduate school and while completing my PhD. Watching the youth grow up and succeed, in part because of the experiences, education, tools, friendships and opportunities we helped provide- has been incredibly meaningful. I only hope we can continue supporting this community at the University of Toronto."
---
Join us in supporting the NMC-CESI by making a donation today and empowering our dedicated student group members to create positive change and achieve their goals!
---
Categories
Tags